Office Soundproofing in the UAE
TYPICAL ACOUSTIC ISSUES WITH OPEN PLAN OFFICES
1. OFFICES LOOK GOOD, BUT SOUND BAD
Open Offices in the UAE are designed for collaboration and look great, however the sound of the telephone constantly ringing, general chit-chat from your colleagues, and noisy office machinery are all common disturbances affecting our ability to work.
With acoustics and soundproofing often being overlooked in offices with sub-par partitions and large open conference rooms, distractions from noise are a constant in workplaces across the UAE.
Understand how sound travels in your workplace.
2. SOUND TRAVELS THROUGH OPEN SPACES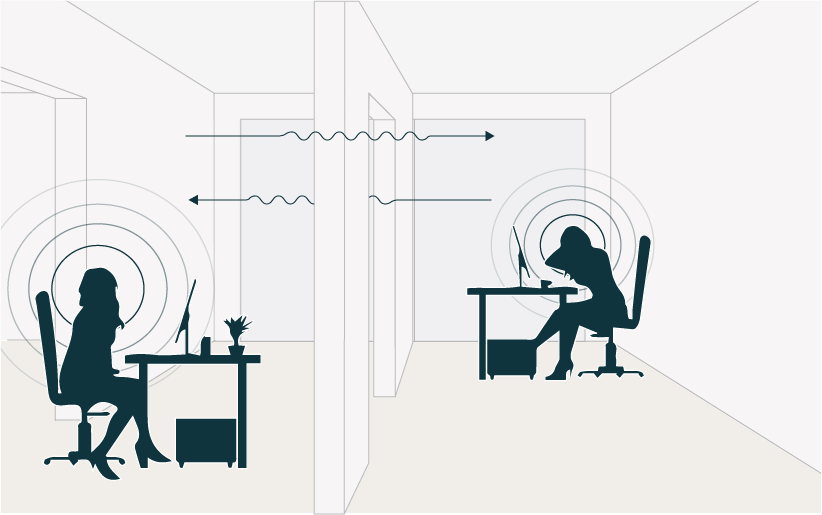 When you hear disturbances or sounds from your co-workers coming from the surroundings rooms.
There are three ways this can occur:

1. Open air passages between rooms
2. Reflected by hard surfaces in walls, floors, and ceilings
3. Vibrations coming through solid surfaces with no absorption, e.g., concrete walls and marble floors.

Any interior design for offices is not completed without considering acoustics in the workplace.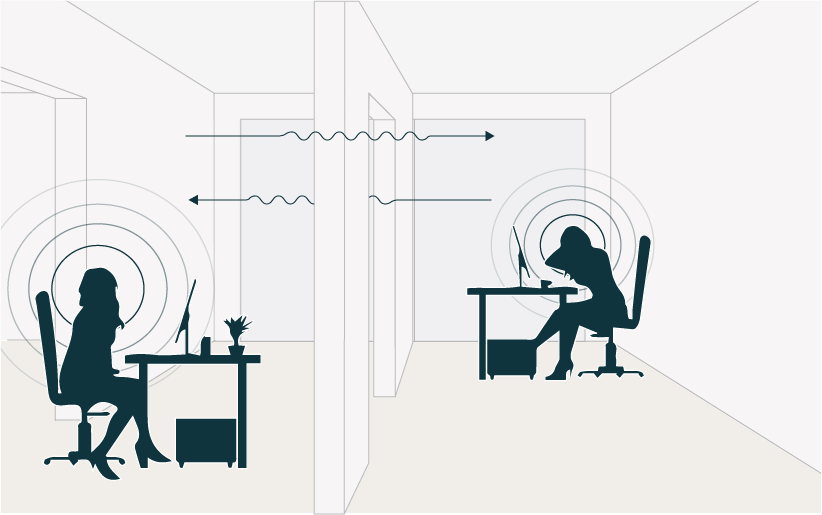 3. SOUND REFLECTS ON HARD SURFACES
When a sound is created, sound waves spread out and reflect on the surfaces in a room. Typical hard materials used in offices that reflect almost 100% of the sound are:
1. Ceramic and marble
2. Gypsum and concrete
3. Glass windows and doors
The reflected sound waves bounce off the materials and reach our ear with a delay. When this delay is long, we perceive it as an echo or noise. Empty rooms may have more echo because of the absence of sound absorbing surfaces like soft furnishings, carpets and curtains.
HOW DOES MUTE SOLVE OFFICE NOISE PROBLEMS?
ABSORB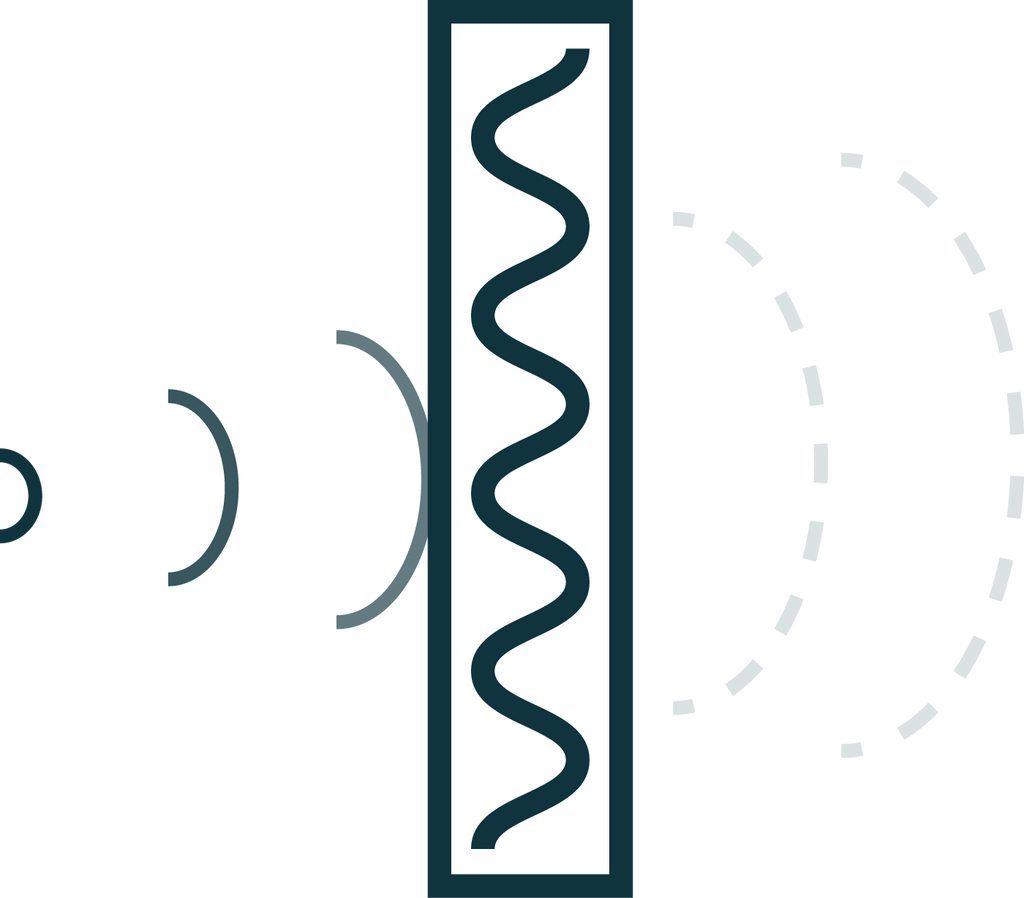 With absorption we cancel sound reflections & eliminate the sound energy.
BLOCK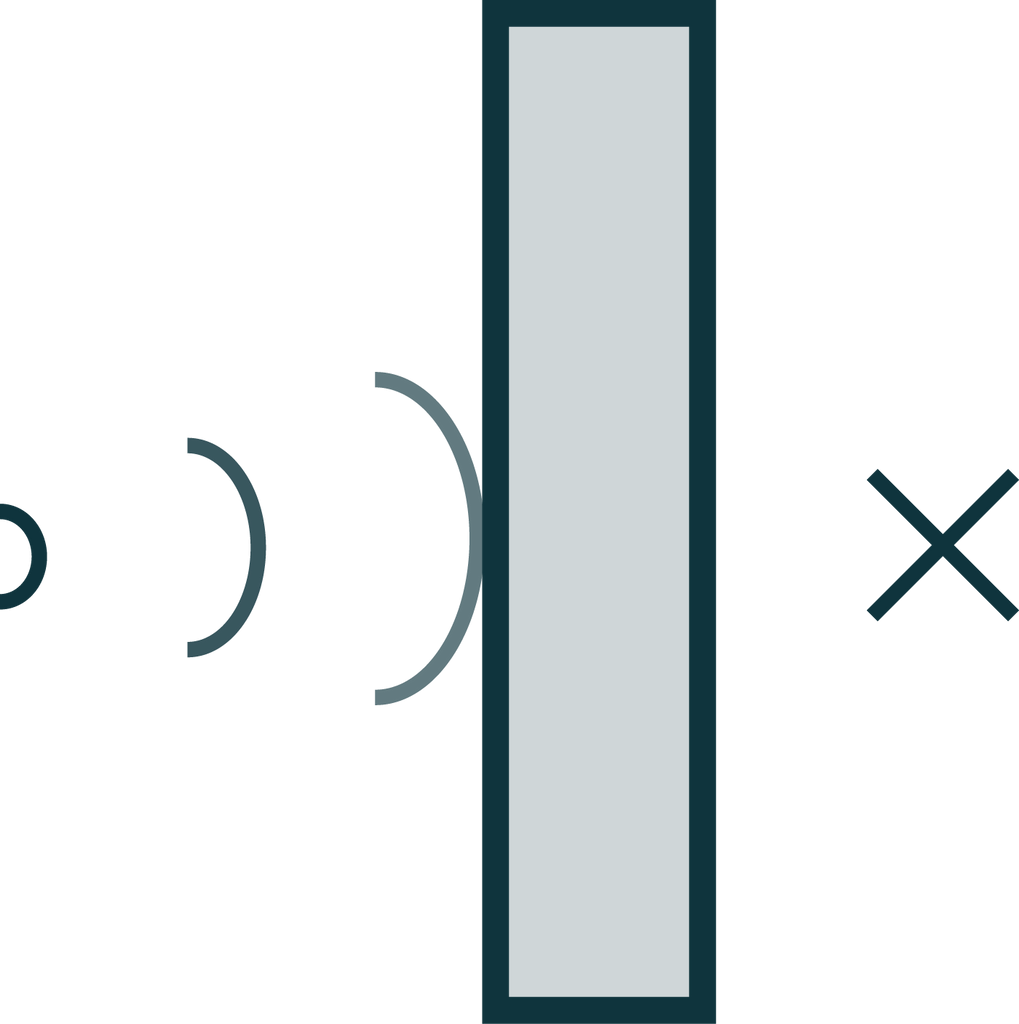 By blocking sound, we eliminate the transfer of sound energy to surrounding spaces.
1. ABSORBING PANELS for walls & ceilings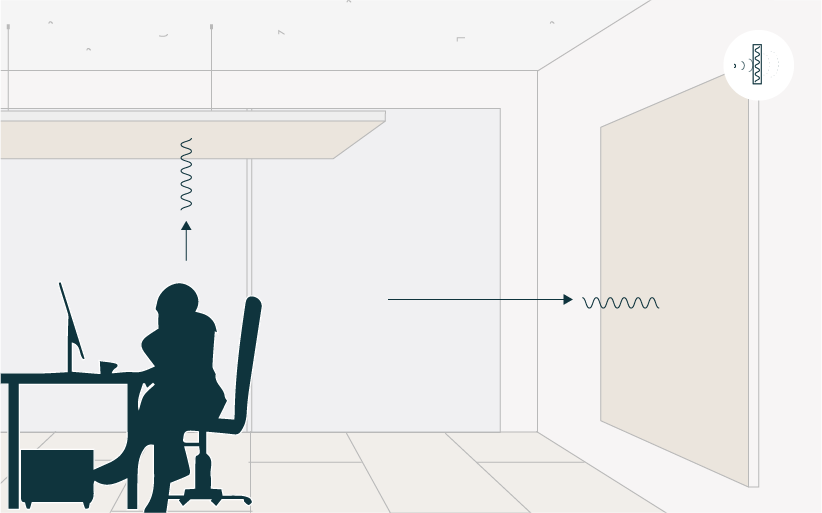 MUTE Felt is a sound-absorbing panel made from recycled plastic fibers & is highly effective at canceling echo & noise when mounted directly to your walls or suspended from your ceiling.
Explore the full range of MUTE felt here. →
MUTE pictures are sound absorbing picture frames combining your choice of artwork with a sound absorbing MUTE core. Explore how to use MUTE pictures in your space to solve noise issues. →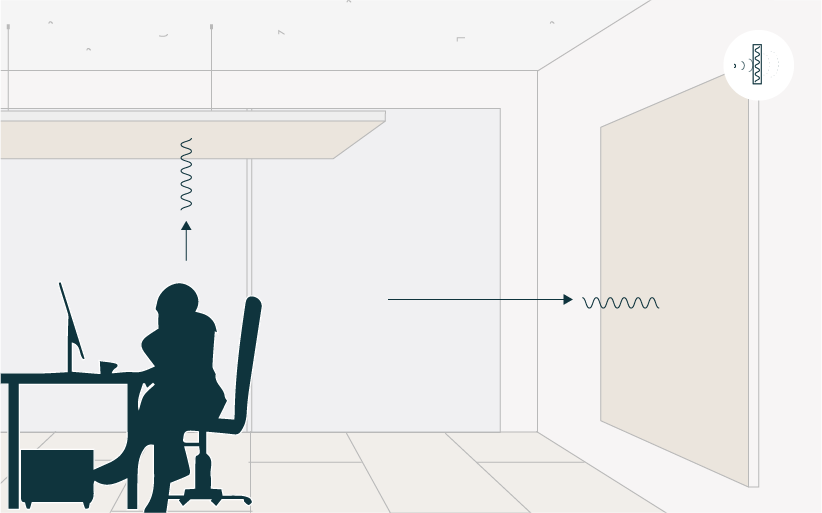 2. BLOCKING MATERIALS for walls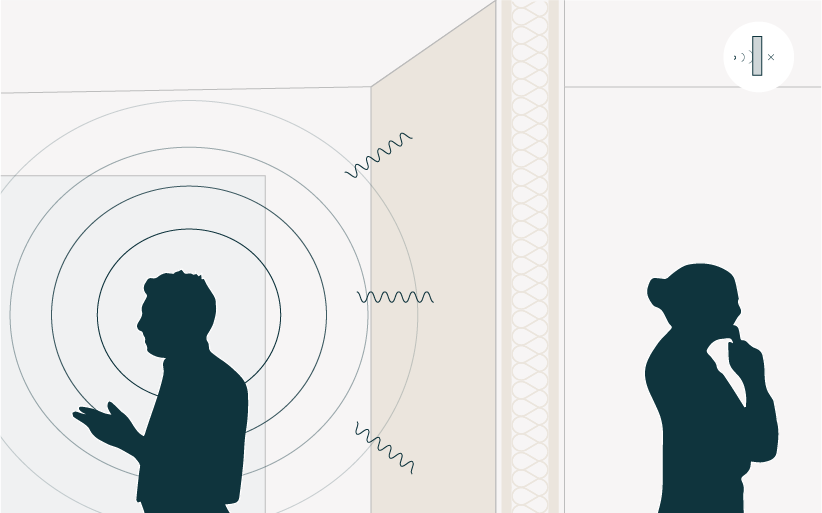 MUTE MLV (mass loaded vinyl) is a dense rubber soundproofing material which helps absorb vibrations and block sound passing through it completely.
This material is ideal for you to soundproof your gypsum partitions, so they do not transmit sound energy. Explore how to use MLV here. Explore how to use MLV here.
There are different ways to approach acoustic insulation of your walls using different sound blocking materials, get a free acoustic study of your space. →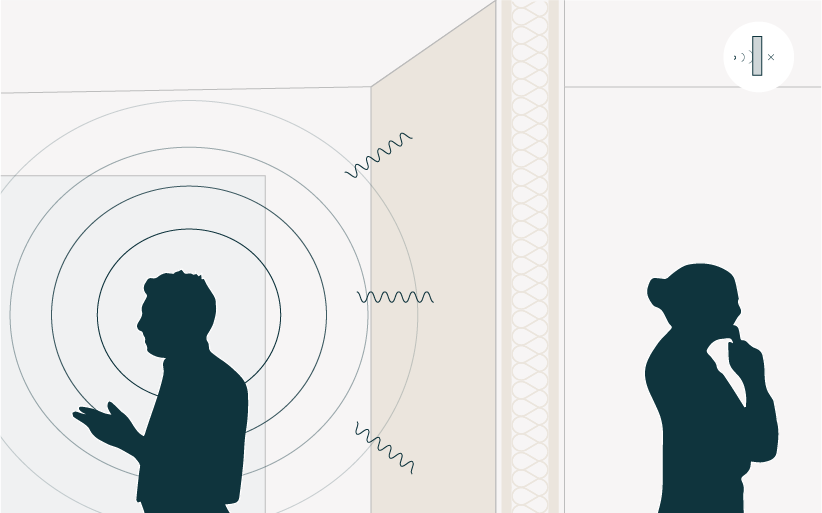 3. NOISE BLOCKING SOLUTIONS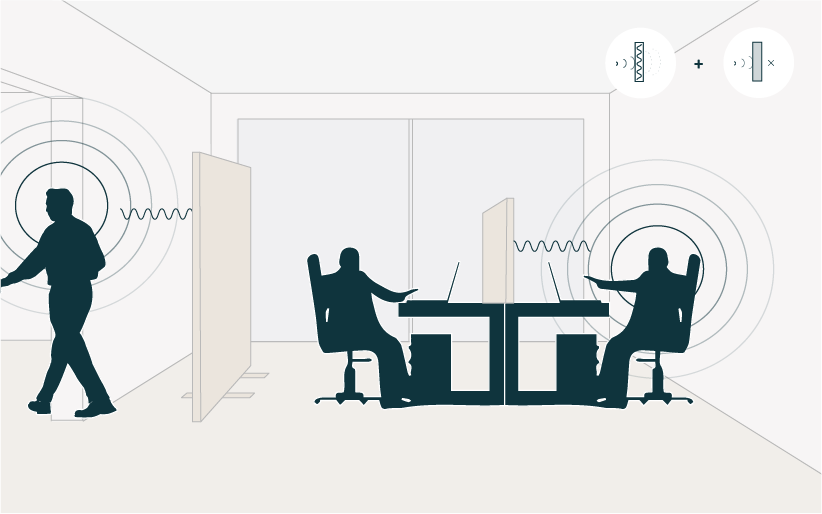 Create private spaces using MUTE dividers - which are freestanding room and desk dividers combined with a sound absorbing MUTE core. Check out how this works →
Create areas for focus working in your open plan office using our soundproof MUTE pods which are ideal for private Zoom meetings, silent spaces for phone calls and to cancel out distractions while working.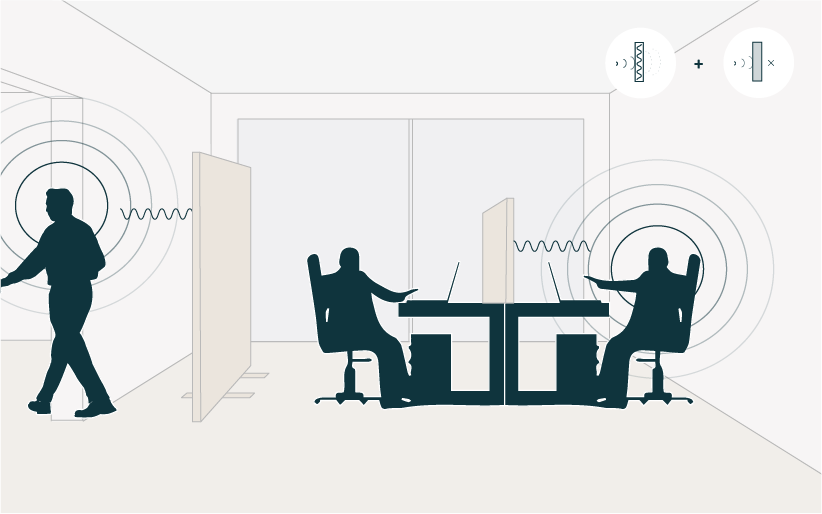 See how we solved problems with echo
for this conference room in the UAE