Case: Conference Rooms - Property Finder
MUTE FELT PANELS FOR A QUIET OFFICE SPACE
Employees at Property Finder often experienced problems with noise and echo in conference rooms, creating a lack of focus and concentration which resulted in poor performance. They realized they had noise issues that needed to be resolved.
MUTE was invited to treat these problems for 7 different rooms, ranging from large conference rooms to small cabins in their Dubai offices.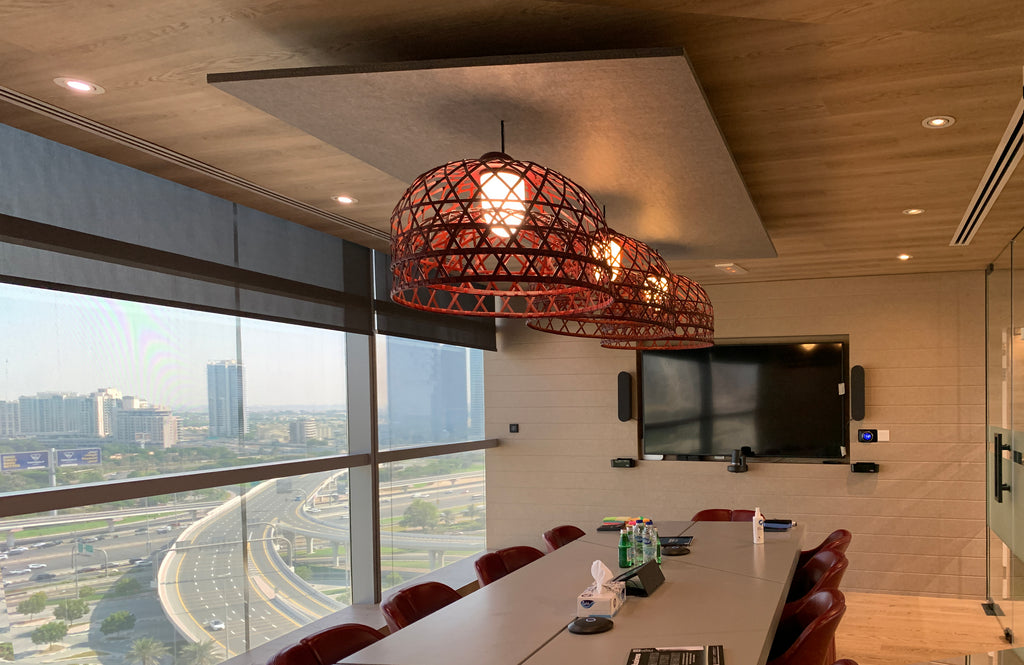 Board Room. Large conference room at Property Finder, treated using MUTE Felt both on the back wall & ceiling to solve echo problems in meetings.
PROBLEMS IN THE SPACE
Problem 1. The spaces all have hard surfaces like Glass and Concrete that reflects nearly 100% of the sound which hits it. This creates noise in the space.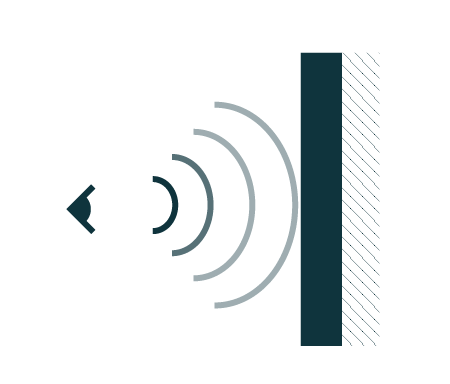 Problem 2.The lack of acoustic absorbers increases echo & reverb when multiple people are speaking at the same time. This results in low clarity of speech.
SOLUTION - BOARD ROOM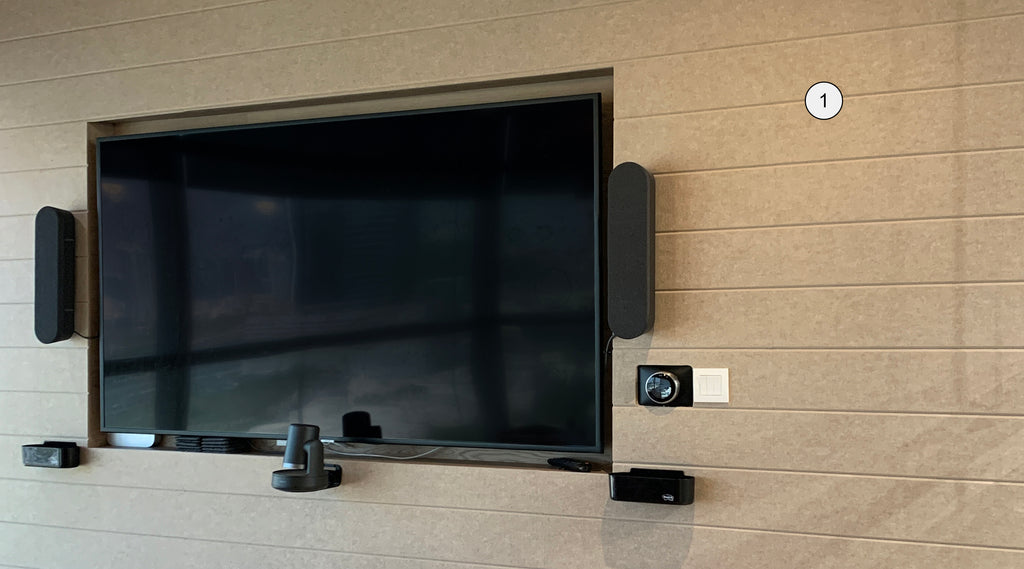 To solve the problems with echo and reverb, a MUTE Felt based approach was chosen - Using these MUTE felt panels around the sources of noise to absorb sound and reduce echo.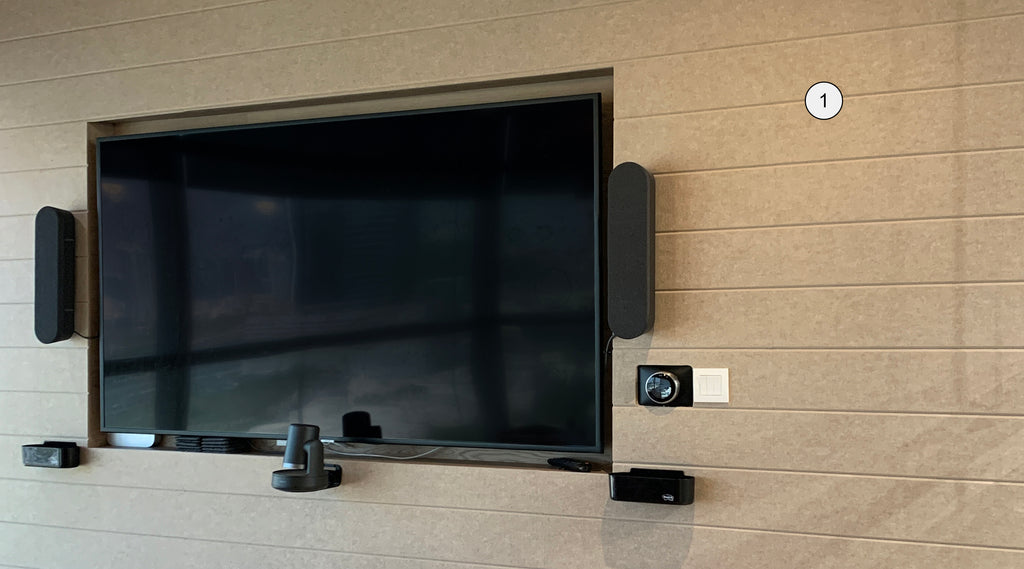 Product 1. MUTE Felt applied on the TV wall for a seamless finish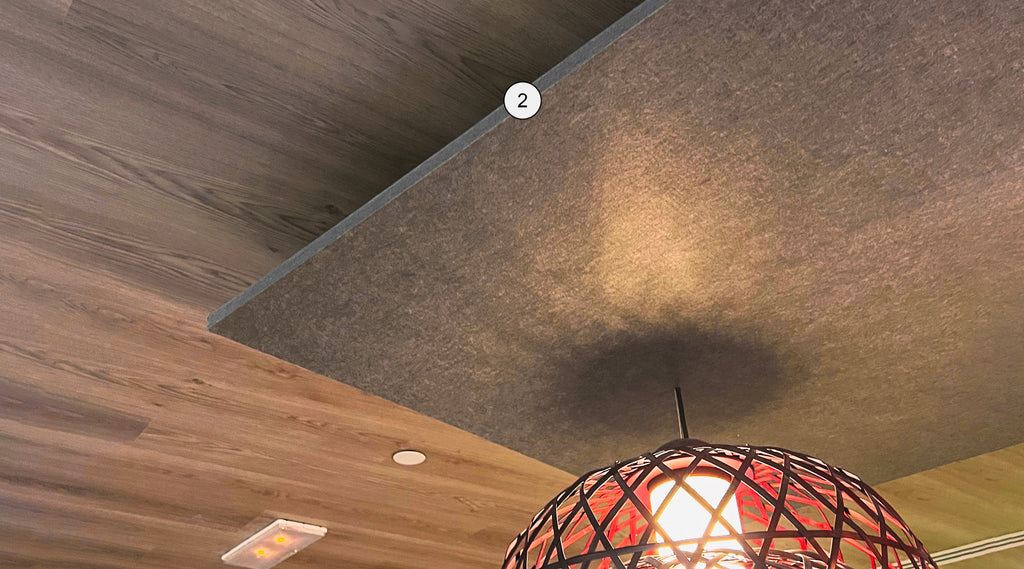 MUTE FELT panels on the wall and ceiling help improve the amount of echo in the space. These panels are made from recycled plastic fibers and are highly effective at absorbing sound.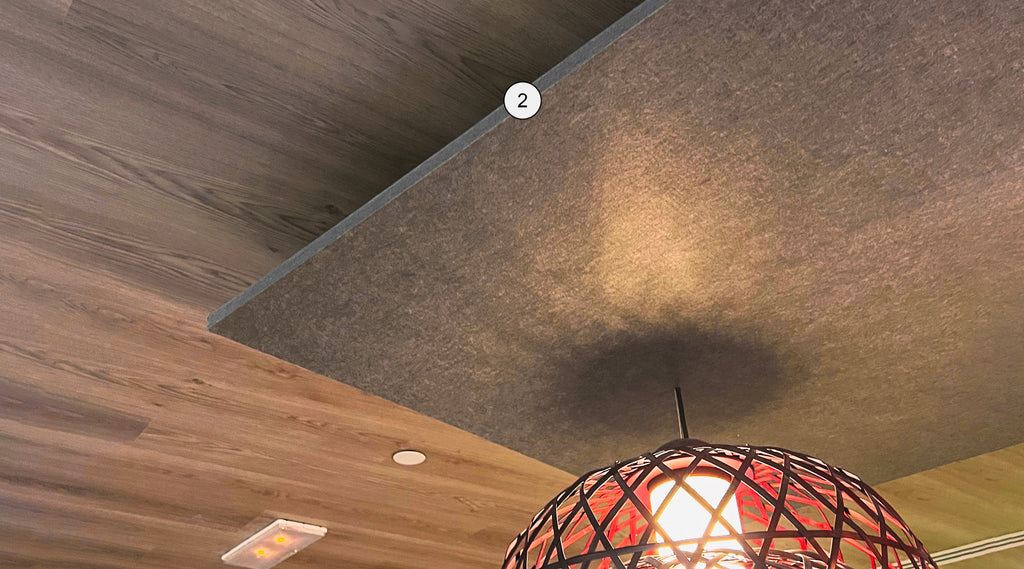 Product 2. MUTE Ceiling panels suspended above the meeting table for maximal absorbtion of sound, making it possible to clearly listen and talk over conference calls online.
SOLUTION - TECH ROOM 2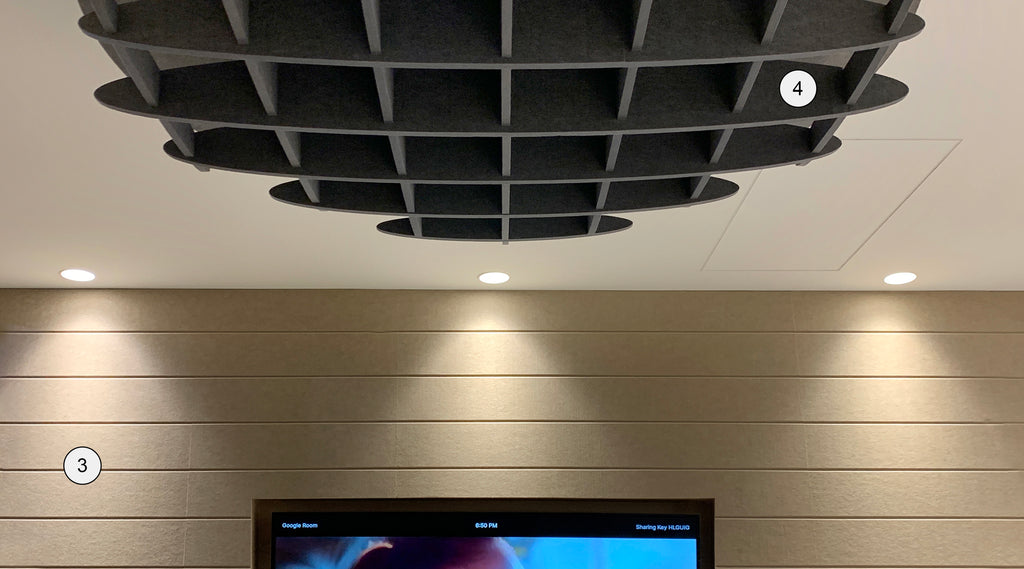 Small meeting rooms full of hard surfaces like concrete and glass were not ideal for the professional audio equipment that was being used for online meetings. Using MUTE felt we reduced the echo down to almost zero resulting in much higher speech clarity during video calls.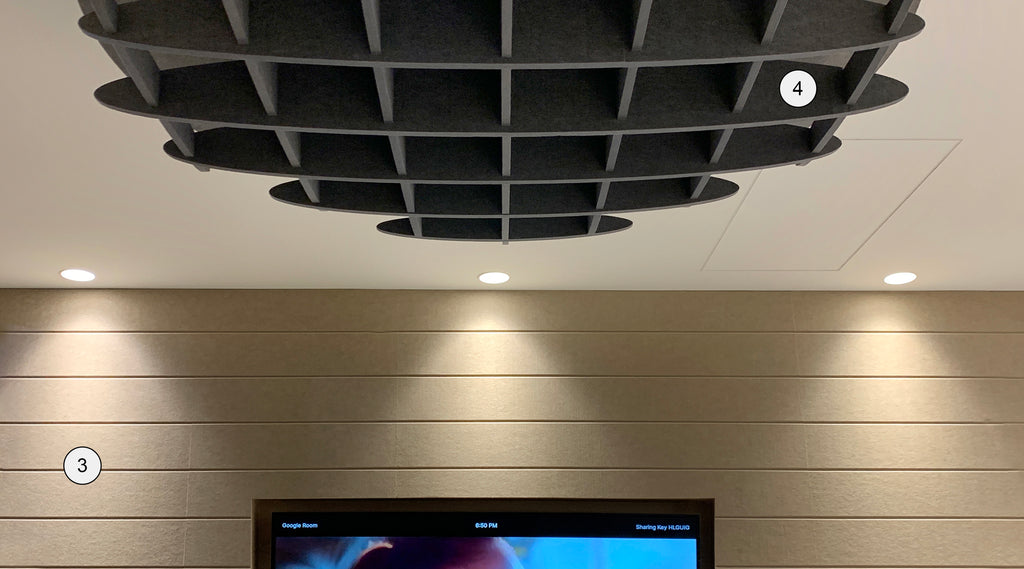 Product 3. MUTE Felt - Straight Lines Panel - Dark Camel Colour. Product 4. MUTE Ceiling Waffles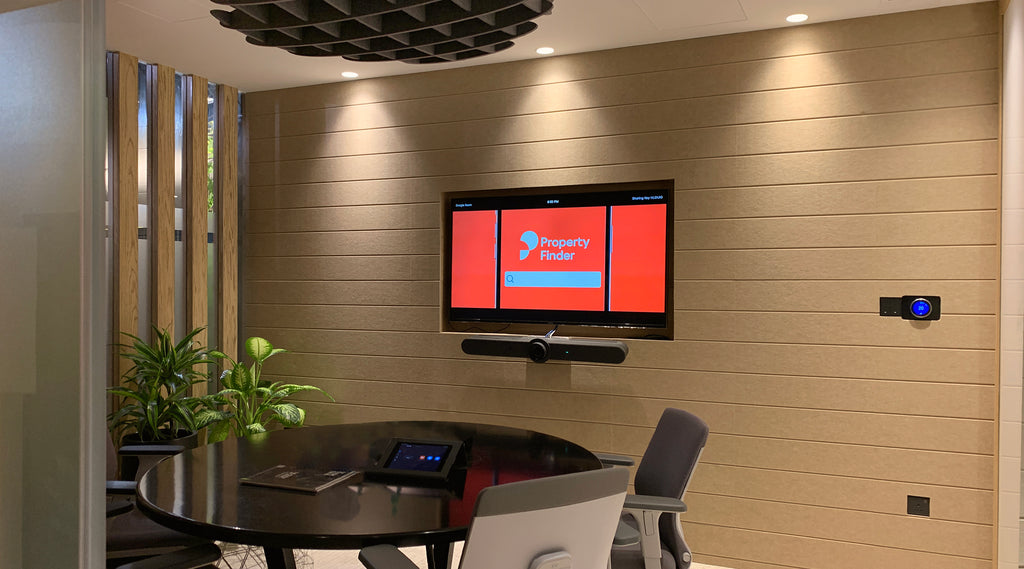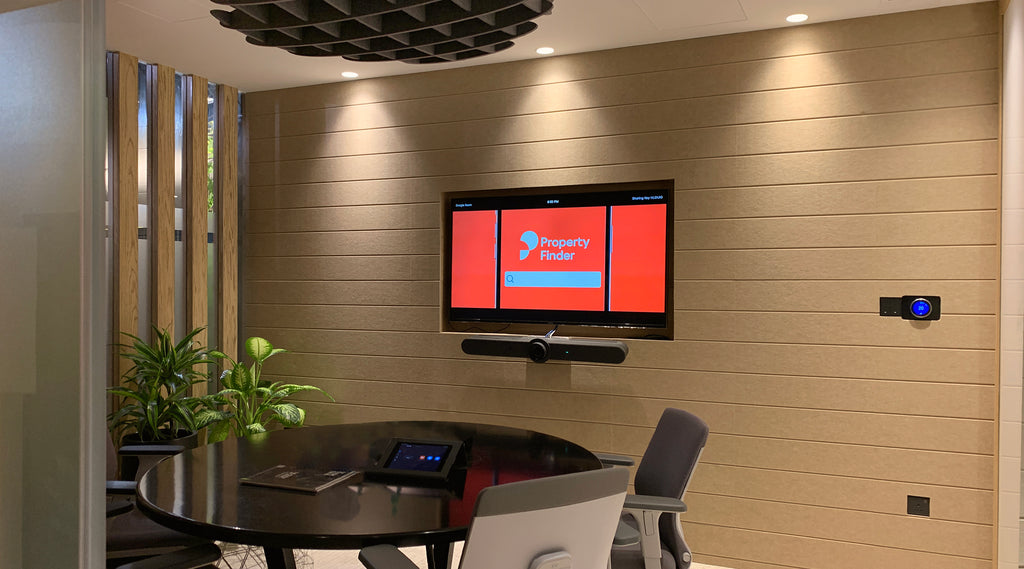 Google Room. MUTE wall panels and MUTE Waffles suspended from the ceiling helps reduce echo drastically during video calls.
REDUCTION IN REVERBERATION TIME
After the acoustic treatment of the space, MUTE takes sound measurements for all the spaces we have treated to see the reduction in echo and noise levels.